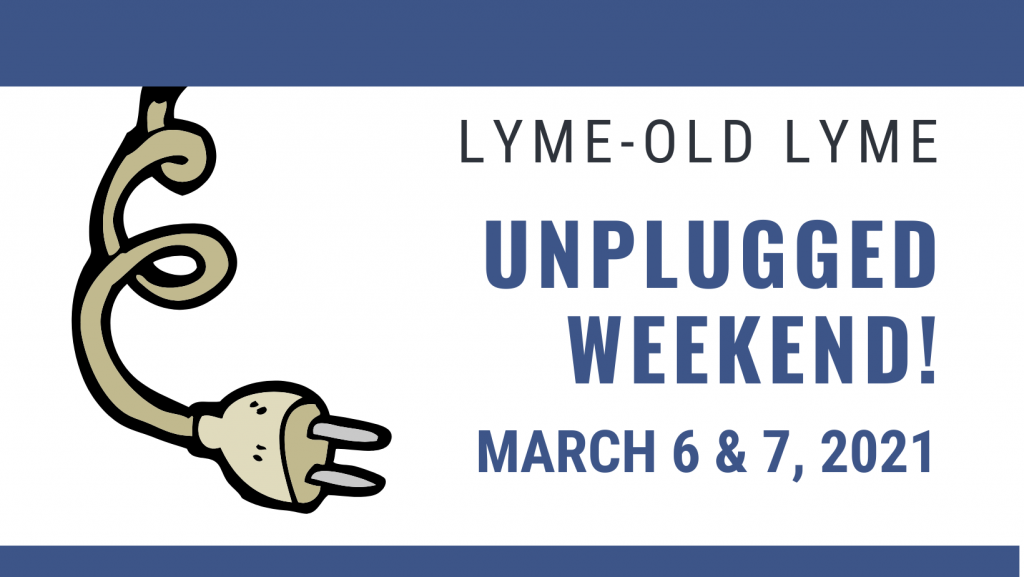 It's time to unplug on March 6 & 7!!
Back by popular demand, we are offering a weekend to de-stress and take a time out from technology and social media. Enjoy the fun activities our community partners have to offer, including a homework free weekend for the students of LOLMS.  All activities have covid precautions in place.  
This page will be updated as info comes in.
Saturday, March 6th 10:00 a.m. to 4:00 p.m., and Sunday, March 7th, 1:00 to 4:00 p.m
Nature Trail Hunt with Activity Bag.
 Pick up your activity bag at LYSB (59 Lyme Street) and head over to the Florence Griswold Museum Artists' Trail and follow fun clues and activities.  Look for the poster with instructions.
Visit the Museum's 12-acre campus and Artists' Trail for a restorative 1/2 mile walk by the Lieutenant River. Enjoy two exhibitions: "Expanding Horizons: Celebrating 20 Years of the Hartford Steamboiler Collection" and "Centennial of the Lyme Art Association Gallery." 24-hour advance online ticket reservations required for exhibitions, grounds free and open to the public following posted Museum guidelines.
Sunday, March 7th, 12:00 to 2:00 p.m
Visit High Hopes Therapeutic Riding and spend two hours helping with trail maintenance. Take a walk through the barn, visit with the herd and trim some branches along the sensory trail. Please bring clippers, gloves, water and where sturdy walking shoes. Fair weather only. Pre registration is required by emailing kstalsburg@highhopestr.org. Group size limited to 15.
Saturday, March 6th and Sunday, March 7th, 10:15 a.m. to 5:00 p.m.
Gallery Game "It's all in the Details", and hands-on art project.
Two Family Walks with Quests: Gnome Hunt in Pleasant Valley Preserve, McIntosh Rd., Lyme and Faery Quest, in Hartman Park, Gungy Rd., Lyme. Follow the dots on the maps to find the gnomes and Faeries. Take photos! We'd love to see them. Self paced, all weekend.
Lymes' Youth Service Bureau
Three Community Service Projects with your Family!

• Family Beach Clean Up, Saturday, March 6th, 11:00 a.m. to 1:00 p.m.  Meet at the end of Hartford Avenue where members of LYSB's Youth Advisory Council will provide you with gloves and bags to keep our beaches clean!
• Seed Bombs.  Pick up your kit from the LYSB porch to create your own seed bombs that help to spread flowers and create beauty and habitats for pollinators.
• Dog Biscuits for OL Animal Control.  Pick up your kit and instructions from the LYSB porch.  Make dog biscuits that will be donated to Old Lyme Animal Control.
Kits available at LYSB beginning Friday, March 5th on our front porch while supplies last. (59 Lyme Street) Self paced all weekend.
Saturday, March 6th, 10:00 a.m. to 2:00 p.m. on the hour, 68 Lyme Street, Old Lyme!

Learn How to Play the 3-String Cigar Box Guitar—FREE LESSONS Dan Stevens will guide you through the simple process of playing blues on a primitive homemade guitar out of a cigar box. Using a broken off bottleneck slide, in minutes you will be playing these beautiful rockin' instruments. No talent needed! Sign up and experience the joy of musical expression. Success and fun guaranteed. All Guitars and materials provided. Class size limited each hour to 4 due to COVID restrictions. Masks required. Sign up in advance by emailing danstevens@snet.net
Nature Scavenger Hunt at Hatchett Hill Preserve (29-1 Hatchett Hill Rd).  Inaugural weekend for a fun new way to explore and learn at one of our most easily walkable preserves. Tons of fun for all ages! Self paced all weekend.
Nature Sculpture Contest at Watch Rock!
Saturday, March 6th and Sunday March 7th, 11:00 a.m. to 4:00 p.m. Location: Watch Rock Preserve on the field (it's labeled on the trail map).  Get your creative juices flowing and make something artistic out of natural materials you find on the preserve. Make a cool sculpture on the field and send us a photo via Facebook or email ollandtrust@gmail.com with the names of the participants.  Click here for examples of nature sculptures you can make. Prizes: bragging rights and a gift certificate to Scarpetta's.  Share your photos for contest judging and email to OLLandTrust@gmail.com.
Spice Explorers 
Pick up a kit from the Library to add some spice to your pantry and expand your palate. Kits include sample spices, fun facts, and suggested recipes. During Unplugged weekend, we encourage everyone to make a dish with their spices. Share a photo and tell us how it tasted!  The Spice Explorers Kit will be available at curbside pick-up at the Library, beginning Friday, March 5, no registration required, all ages." Self paced all weekend.
Explore Your Yard and Help Birds Build a Nest! Migratory birds are returning in the coming weeks, and will soon be ready to feed their young delicacies such as caterpillars and worms! Bring together natural materials in your yard to give birds a head start on their nests. Instructional sheets are available by clicking here, and will also be available on the porch of LYSB (59 Lyme Street), where you'll see a display with examples of nesting materials ready for birds to gather. Self paced all weekend.

Family Beginner Bird Walk at Watch Rock Preserve
Saturday, March 6th, 9:00 to 10:00 a.m.
Join teacher-naturalist Morgan Allen at Watch Rock Preserve for a fun morning of searching for and identifying our fine feathered friends! Program includes materials to take home and build your own birdfeeder so you can continue to enjoying watching for birds at your own home.
Scavenger Hunt at Saint Ann's Episcopal Church (82 Shore Road, Old Lyme) Use the clues to search and discover more about our little patch of Old Lyme. Click Here for the clues self paced all weekend.
Saturday, March 6th and Sunday March 7th, 9:00 a.m. to 5:00 p.m.
Self guided sculpture grounds tour, (80 Lyme Street)  With over 100 sculptures woven throughout different gardens and courtyards, this en plein air art experience allows visitors to enjoy incredible large-scale contemporary sculpture on 4.5 beautifully landscaped acres. Visitors are encouraged to explore the grounds and interact with the works, perhaps turning kinetic elements or wandering through open pieces.