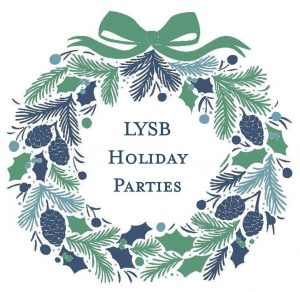 LYSB Holiday Parties
Sunday, December 5, 2021, 5:30 to 6:30 p.m.
WATCH THE VIDEO of Holiday Parties 2021 
Thank you to all our donors and sponsors for making Holiday Parties 2021 a success!
Hosted online by inspiring LYSB youth leaders who will entertain you and spread some holiday cheer, while raising funds for LYSB's youth programs.  Followed by 30 neighborhood online parties to catch up with neighbors and friends.
Join us for our 2nd year online (and hopefully back in person next year) for the twenty fifth anniversary of this much loved community event which brings neighbors together as we kick off the holiday season while helping local families in need.
RSVP with a donation of your choice
Guests donating $25 or more receive LYSB's Party Kit with mocktail fun.
Guests donating $150 or more receive Taste of Lyme-Old Lyme Gift Box with locally made treats (150 available).  These sold out last year, so reserve early.
Thank you to our sponsors!