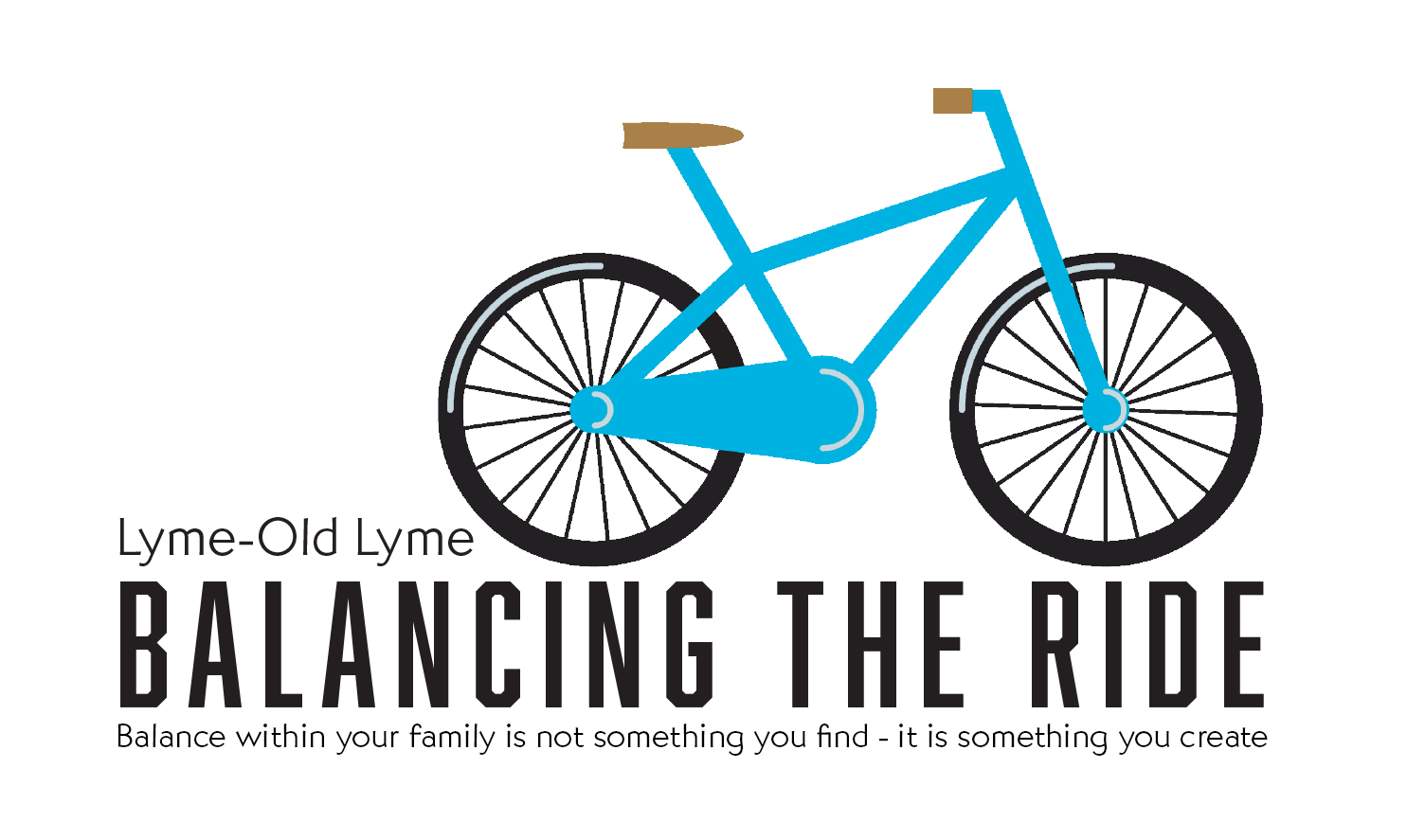 Balancing the Ride is a community driven campaign aiming to support Lyme-Old Lyme and other local families in finding their unique balance.   This digital and fast-paced world is ever changing-  creating an environment that has never been more challenging for families to raise children.
Balancing the Ride offers a place for resources, educational events, and support to families as they navigate their intentional road map towards wellness and balance.
UPCOMING EVENTS
Weed Inc: The Impact of Legalized Cannabis on Our Youth and Our Community
> March 29, 2023, 7:00 p.m. on Zoom
>REGISTER
>OUR PODCAST with BEN CORT
>MORE INFO & BIO
PREVIOUS EVENTS
Addiction Inoculation, with Jessica Lahey
> February 15, 2023, 7:00 p.m. on Zoom
> REGISTER
> INFO & BIO
The Tech Savvy Parent, with Adam Dodge
> January 19, 2023, 7:00 p.m. on Zoom
> FLYER
> INFO & BIO
Helping My Anxious Child, with Alicia Farrell, Ph.D.
> November 9, 2022, 7:00 p.m. on Zoom
> RECORDING & RESOURCES from the webinar
> FLYER

Chasing Childhood documentary 
> September 28, 2022, 7:00 p.m. on Zoom
> FLYER

Internet Safety for Parents, with Scott Driscoll
> October 17, 2022, 7:00 p.m. on Zoom
> FLYER
> Follow up resources
RESOURCES
> Resolve to Be a More Balanced Parent
From Psychology Today – Steps to bring more balance to your family.
> Let Grow
When adults step back, kids step up.  Making it easy, normal and legal to give kids the independence they need to grow into capable, confident, and happy adults.  Be sure to check out their webinars including, "Someone Called 911 Because My Kids Were Outside!" and "Free Play vs. Little League"
>The Family Dinner Project
The "magic" of family dinners is grounded in research on the physical, mental and emotional benefits of regular family meals. 

> Alicia Farrell, PhD
A local psychologist and LYSB workshop facilitator.  Her website offers great info to support our children  (and ourselves!) in today's busy world.
COMING THIS FALL…
Family Conversation Cards & Pizza Box Stickers
Research has shown that regular family meals offer a wide variety of physical, social-emotional and academic benefits.
Look for our Family Conversation Cards at upcoming fall school and LYSB events, or stop by our office.  We are collaborating with local pizza restaurants to place stickers on pizza boxes, with fun family conversation starters.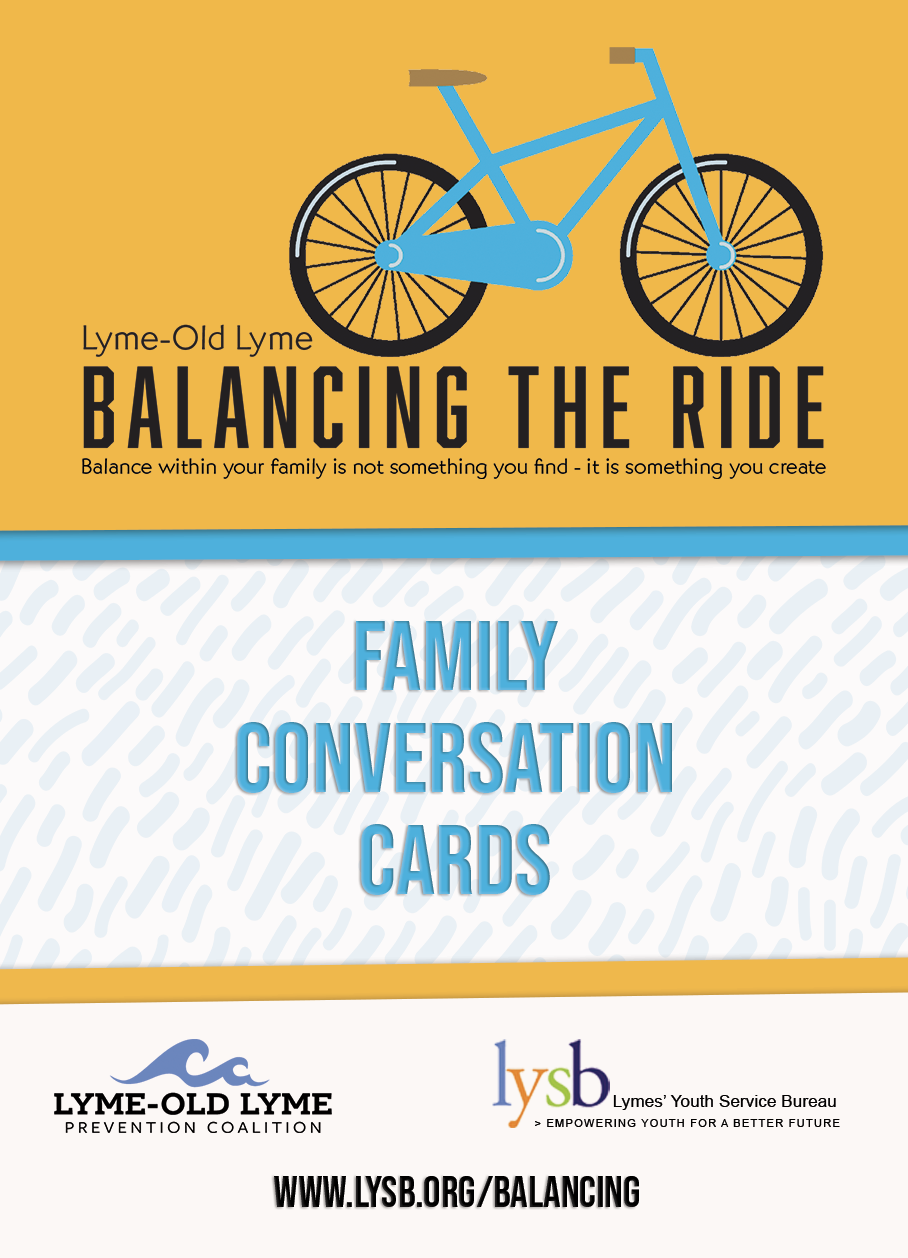 Visit our Prevention Coalition Page with resources and information for families about youth drug and alcohol use, including survey results, meetings, and events.  Parents, youth, and community members are welcome (and encouraged) to join anytime!  For more info, contact LYSB Prevention Coordinator Alli Behnke abehnke@lysb.org
Lyme-Old Lyme Prevention Coalition Meetings
On Zoom
October 4, 2022 at 7:00 pm
November 1, 2022 at 7:00 pm
December 6, 2022 at 7:00 pm
February 7, 2023 at 7:00 pm
March 7, 2023 at 7:00 pm
April 4, 2023 at 7:00 pm
May 2, 2023 at 7:00 pm