College Drinking: Rite of Passage or Risky Business?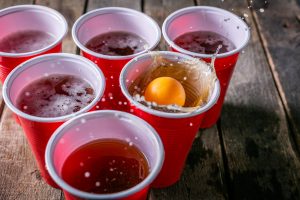 Underage college drinking is a significant public health problem, and it exacts an enormous toll on the intellectual and social lives of students on campuses across the United States. Drinking at college has become a ritual that students often see as an integral part of their higher education experience.
Many students come to college with established drinking habits, and the college environment can exacerbate the problem. 
About one in four college students report academic consequences from drinking, including missing class, falling behind in class, doing poorly on exams or papers, and receiving lower grades overall.
In a national survey of college students, binge drinkers who consumed alcohol at least three times per week were roughly six times more likely than those who drank but never binged to perform poorly on a test or project as a result of drinking, and five times more likely to have missed a class.
Although the majority of students come to college already having some experience with alcohol, certain aspects of college life, such as unstructured time, the widespread availability of alcohol, inconsistent enforcement of underage drinking laws, and limited interactions with parents and other adults, can intensify the problem.
In fact, college students have higher binge-drinking rates and a higher incidence of driving under the influence of alcohol than their non-college peers.
The first six weeks of freshman year are a vulnerable time for heavy drinking and alcohol-related consequences because of student expectations and social pressures at the start of the academic year. 
How much is a drink?
To avoid binge drinking and its consequences, college students (and all people who drink) are advised to track the number of drinks they consume over a given period of time. That is why it is important to know exactly what counts as a drink.
In the United States, a standard drink is one that contains about 14 grams of pure alcohol, which is found in:
12 ounces of beer with 5 percent alcohol content;

5 ounces of wine with 12 percent alcohol content;

1.5 ounces of distilled spirits with 40 percent alcohol content.
Unfortunately, although the "standard" drink amounts are helpful for following health guidelines, they may not reflect customary serving sizes. A large cup of beer, an over-poured glass of wine, or a single mixed drink could contain much more alcohol than a standard drink. 
Factors related to specific college environments also are significant. Students attending schools with strong Greek systems and with prominent athletic programs tend to drink more than students at other types of schools.
In terms of living arrangements, alcohol consumption is highest among students living in fraternities and sororities and lowest among commuting students, who live with their families.
An often-overlooked preventive factor involves the continuing influence of parents. Research shows that students who choose not to drink often do so because their parents discussed alcohol use and its adverse consequences with them.
Ongoing research continues to improve our understanding of how to address the persistent and costly problem of harmful and underage student drinking. Successful efforts typically involve a mix of strategies that target individual students, the student body as a whole, and the broader college community.