LYME-OLD LYME PREVENTION COALITION

UPCOMING:
LOL Prevention Coalition Meeting
Tuesday, April 20, 2021, 7:00 p.m.
Zoom Link: https://us02web.zoom.us/j/88443019336
Drug Take Back:
Saturday, April 24, 2021, 10:00 a.m. to 2:00 p.m.
Lyme Street Firehouse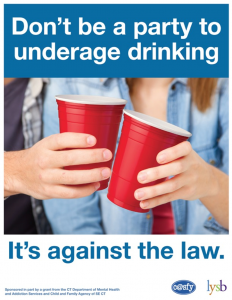 The Lyme-Old Lyme Prevention Coalition meets monthly, and all who live or work in Lyme/Old Lyme are welcome and encouraged to attend.  Please call our Prevention Coordinator Alli Behnke 860-434-7208 x308 with any questions.  To receive email communications about the Coalition, please email mseidner@lysb.org to be added to our email distribution list.  The Mission of the Lyme- Old Lyme Prevention Coalition is to prevent and reduce alcohol and other drug use among youth by collaborating with the community to raise awareness, modify social norms, educate youth and adults, initiate policy change and promote healthy activities.
Children of parents who set clear "no use" alcohol rules are 50% less likely to use alcohol than children of parents who don't.  Children of parents who allow them to use alcohol in their homes drink more often than children who aren't allowed to do so, and are more likely to develop drinking problems.

VAPING & TEENS – Click Here
Resources, Research, and Articles
PAST EVENTS:
Hidden In Plain Sight
Tuesday, January 19, 2021 @ 7:00 p.m. on Zoom

LIKE
Tuesday, January 26, 2021 @ 7:00 p.m. on Zoom
LIKE is a documentary that explores the impact of social media on our lives and the effects of technology on the brain. The goal of the film is to inspire us to self-regulate. Social media is a tool and social platforms are a place to connect, share, and care … but is that what's really happening? We will be showing the film, which will promptly be followed by a panel discussion with experts from the film and will include access to further resources and materials.  Students in LOL Schools grades 6-12 will view the documentary in school on Wednesday 1/27.
Click here for the flyer
New Year, New Choices: Body Detox Workshop
Tuesday, January 5, 2021, 7:00 p.m. on Zoom
Click here for flyer
Tuesday, March 12, 2019 guest speaker John Daviau, Marijuana in CT: Is it a Done Deal??

ANGST: Raising Awareness About Anxiety
Tuesday, April 9, 2019 6:30 p.m. at LOLMS
Narcan Training
Thursday, January 24th, 6:30 p.m.
Old Lyme Town Hall
Click Here for Flyer
COMMUNITY FORUM ON YOUTH SUBSTANCE USE:  VAPING
Monday, March 19, 2018 at 7:00 p.m.
Lyme-Old Lyme Middle School Auditorium
Featuring:
** Results from the Lyme-Old Lyme Youth Survey
** A youth presentation about vaping
** Youth panel about what is going on and why
 
PARENT UP!  RAISING a SUBSTANCE FREE CHILD
Four Wednesdays: January 17, 24, 31, and February 7, 2018, 7:00-8:30 p.m.
At Lyme-Old Lyme Middle School
A FREE four session substance abuse education and prevention program developed by LYSB and the Coalition to help parents like you understand substance abuse and its impact on children and youth. Guest speakers and relevant resource materials will be offered at each session.  This program is free but please REGISTER.
Topics covered during the four week workshop series:
Current drug trends in US and CT,
How to have the drug discussion with your kids,
Risk factors,
Marijuana-What's the Real Story?,
Teachable moments,
Prescription drugs,
Paraphernalia,
What to do if you suspect your child is using,
Current laws and school rules regarding substances,
Resources
This program is free, but please REGISTER
CURRENT ACTIVITIES:
Strategic Plan.  CASFY is beginning to implement our new Strategic Plan.  Our first goal is to reduce youth marijuana use and our second goal is to continue our work to reduce youth alcohol use.  Click Here for specific information on our goals, strategies, and activities. Please join CASFY's efforts to accomplish these goals!  
QUIZ: Connecticut Alcohol Laws.  What legal consequences could you face?? Take the quiz and see you how do!  Click Here.   
Youth Grants:  CASFY has sponsored several high school youth-initiated events, including a Trivia Night, Game Night, and LOLHS Carnival.  Please consider organizing an activity for 20 or more LOLHS students for this fall and receive a grant of up to $350 to cover expenses. Click here for a grant application.  
Join us at an upcoming CASFY meeting, held on the first Tuesday of the month at 7:00 p.m. at LYSB. 

"Do you know the laws on underage drinking?  Do you know the legal and Department of Motor Vehicles' consequences for underage drinking?  Do you know the possible civil law consequences of underage drinking?" And, has your family had discussions about these laws and the consequences of breaking them? 
CLICK HERE for information on CT laws on underage drinking. 
For a CT example of civil law consequences, please CLICK HERE.
For a recent Op Ed in The Day on the legal  consequences of underage drinking, please CLICK HERE.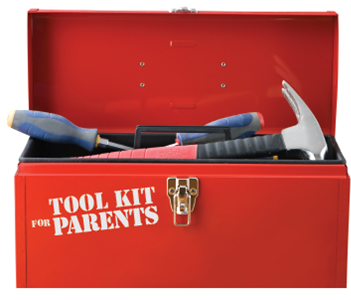 Click on the tool box to learn about marijuana's effects on youth.  
RESULTS FROM THE 2017 SURVEY:
Results Presentation at the Community Forum – Power Point
Vaping Presentation by LYSB's Youth Panel (coming soon)
Article from The Day regarding Vaping Presentation & Community Forum
RESULTS FROM THE 2015 SURVEY:
Results Presentation at the Community Forum – Power Point
Summary of Results
Article from The Day regarding survey results
RESOURCES:
Drugfee.org – prevention and intervention tips for parents and other caregivers; how to get treatment and recovery information
Downloadable Resources & Guides 
How to Talk to Your Kids About Drugs if You Did Drugs 
6 Parenting Practices – Help Reduce the Chances Your Child Will Develop a Drug or Alcohol Problem
E-Cigarettes – Get the Facts
E-Cigarettes & Vaping – A Parent Tip Sheet
Vaping & E-Cigs – The Latest Updates
Is there a Problem? Signs & Symptoms of Drug Use  – Learn the signs, and how to talk to your kids if you suspect drug use
Talk With Your Kids
The Parent Talk Kit
Marijuana – Facts Parents Need to Know
Marijuana FAQs
How to Talk About Marijuana
Connecticut Marijuana Laws for Youth
Connecticut Alcohol Laws
Party Hosting Tips
Handout from April 2013 Marijuana Forum with Dr. Alicia Farrell
Choose Your Path: Teen Prescription Drug Abuse interactive videos
DO I HAVE AN ALCOHOL PROBLEM? How Much is Too Much?? Take this quiz  Click Here

DO I HAVE A DRUG PROBLEM?  Take this quiz  Click Here
SIX PARENTING PRACTICES – Help Reduce the Chances Your Child Will Develop an Alcohol or Drug Problem
Click Here
MADD's NEW RESEARCH BASED HANDBOOK ABOUT TALKING TO YOUR TEEN ABOUT UNDERAGE DRINKING: 
Click Here 

THE SOCIAL HOST LAW IN CONNECTICUT: PARENTS WHO HOST LOSE THE MOST!:
Click Here 
LIFE OF AN ATHLETE: www.lifeofanathlete.com 
Parents and teens can watch this video to learn about the effect of alcohol on athletes.
PLAY HEALTHY:  http://playhealthy.drugfree.org/
This website is a great resource discussing the risks to athletes of using steroids, stimulants, HGH, supplements, energy drinks, and other "performance enhancing substances" (PES).  The Region 18 policy on PES is the same as CIAC and is available at this link on page 104:  Click Here
PARENTING TIPS from DRUGFREE.ORG 
Tips for guiding your 16-18 year old
Tips for guiding your children from 7th-9th grade
Tips for guiding your child through transition to middle school-6th grade
Tips for guiding your child through 4th-6th grade
Tips for guiding your child from kindgarten through third grade
Tips for guiding your child through the preschool years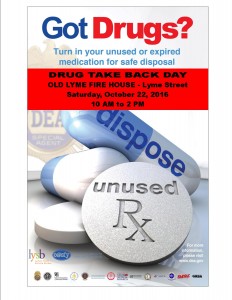 DRUG TAKE BACK EVENT:
April 28, 2018, 10:00 a.m. to 2:00 p.m.
at the Fire House on Lyme Street
Please help to keep drugs out of the hands of teens and others who should not have access to them.  This event is sponsored by CASFY, LYSB, Old Lyme Police and Fire Departments, and the DEA.  Can't make the event on April 28th?   DRUG DROP BOXES are available year round for disposing of medications. Click Here for a list of Drug Drop Boxes at nearby Police Departments for a list of nearby Drug Drop Boxes at area police stations.  The nearest to L/OL are at State Police Troop F Barrack in Westbrook, and the East Lyme Police Station in Niantic.  The Lyme-Old Lyme Prevention Coalition hosts two Drug Take Back events each year.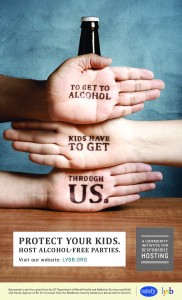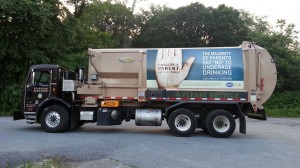 4